Player: Demarre Kitt
Position: Slot WR/KR/PR
Height/Weight: 6'1 190
High School: Sandy Creek (GA) High School
40: 4.55
Demarre Kitt is a 2014 slot receiver who hails from Tyrone, Georgia. Opinion varies somewhat on Mr. Kitt. Rivals has him ranked as the 67th best player in the nation, significantly higher than where 247 values him (180). Kitt originally committed to the University of Georgia. He reopened his commitment back in October, and has since been one of the hottest commodities in the class of 2014. He boasts over two dozen offers, including Alabama, Wisconsin, Tennessee, Georgia, Clemson, Florida, Ohio State, Texas, Oregon, Southern California, South Carolina, and UCLA. Kitt is the consensus top wide receiver prospect in the Peachtree State. He has mentioned that Ohio State and Clemson are currently on top, but his recruitment has been pretty fluid and I expect it won't be over soon. He has also stated that he plans to narrow it down further following spring practice.
Pros: Simply put, Demarre Kitt should play from day one in college. The Sandy Springs playbook appears to consist mainly of "throw it up to Demarre." Kitt has an advanced understanding of route running and where to attack the ball when it's in the air. He reminds me of former Dallas Skyline receiver Mike Davis in that regard. Both know how to time their jumps, elevate over the DB, and catch the ball at the highest point. They both make over the shoulder catches look easy. Let's look at an example.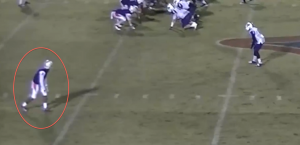 Here, Kitt is lined up in the outside for Sandy Creek. The opposing team is in zone, heavily shaded (as you'll see) to Kitt.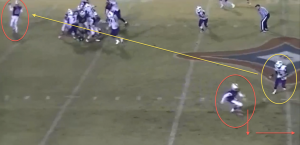 The QB pump fakes, trying to get the DB's to bite on what looks like a ten yard out to Kitt. You can even see #5 watching the QB's eyes here.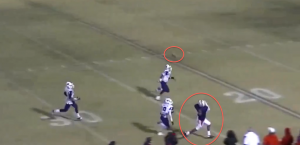 Kitt sells the fake and explodes up the field on a wheel route. He finishes off the play with a very impressive over the shoulder catch between two defenders.
I also compiled some screen shots of Kitt grabs. He has some impressive ones. Keep in mind that all of these were ruled catches.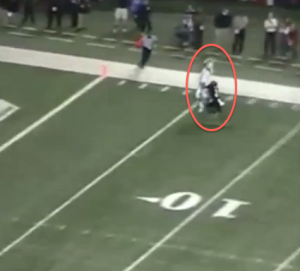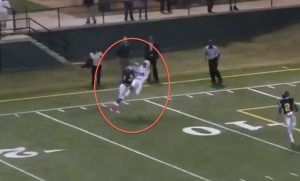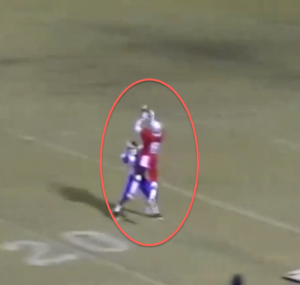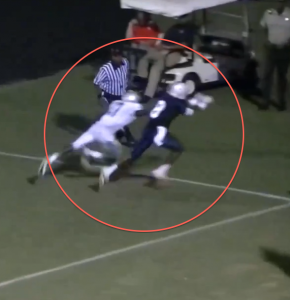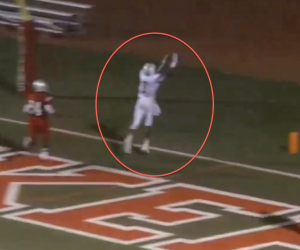 Kitt is also a bigger, physically strong receiver. Receivers get hit a lot more when they get to college. The cornerbacks are stronger and can jam you at the line, the linebackers know how to bump you, etc. Receivers take much more of a pounding. They have to be able to shed the contact, regain their feet, maintain balance, and continue your route on time. More size also helps durability. Kitt won't need as much time as some of his peers to prepare for the beating he'll take in college.
The biggest plus that Kitt has going for him may be his agility and quickness. He utilities these assets well; he's one of the most dangerous players in space at the high school level. He's left more than a few high school defensive backs grasping for air.
Cons: There's really not much here for me to write. He isn't a 4.3 guy, but few are. His speed is more than adequate to play the slot and it's something that has been overblown. He dominated the camp circuit this summer and got behind defensive backs at will. Some guys run 4.5s that don't translate to the field. His 4.5 plays.
He's going to have to learn how to block, but that won't keep him off the field.
Overall: I generally consider 247 to be the best of the scouting services, but they're over thinking this one. Rivals has him about right. I suspect that Kitt will attend an all star game, outplay most of his peers, and then end ranked about where he should be. I grade him a high 4 star player.
Full highlights of Demarre Kitt can be found HERE.