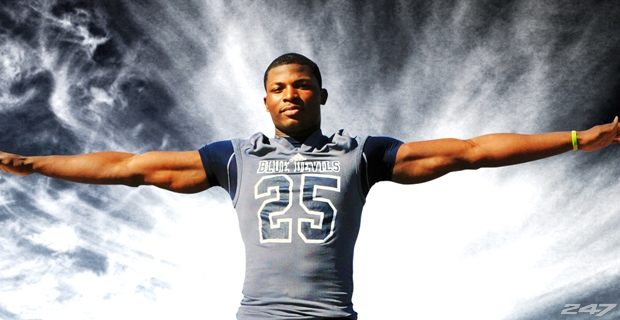 Player: Lorenzo Carter
Postion: DE
Height/Weight: 6'6 235
High School: Norcross (GA) High School
40: 4.60
Lorenzo Carter is a 2014 recruit from Norcross, Georgia. Generally listed as a weakside defensive end, he is athletic enough to play linebacker in a 3-4 scheme.
Carter is also considered one of the top power forwards in the Georgia prep ranks. Carter has yet to express his desire to play both sports in college.
His offer list is a who's who of college football programs: Texas, Ohio State, Michigan, USC, Notre Dame, Florida, Florida State, Alabama, Auburn, Oregon, Penn State, and Stanford have all extended early offers. Carter has yet to really cut his list.
Pros: Carter is a starter kit for what an ideal pass rush defensive end looks like. All of the raw materials are there, some lucky coach just has to put them all together.
His positives include:
Long arms: Long arms are important for defensive ends because they can bat down passes and keep offensive linemen from engaging with your body.

Ideal frame: In his legendary book on scouting, Bill Walsh stated that the ideal NFL defensive end was 6'6 275. Carter carries his 235 pound frame very well. He should have no trouble adding good weight in a college program.

Quickness and change of direction: Offensive linemen love to turn speed rushers like Carter outside. The quarterback simply has to step up in the pocket on passing plays and it creates a big gap on running plays. Carter displays the ability to quickly rip back inside and explode past the offensive lineman.

Elite pass rushing off the edge: Although he doesn't have an extensive pass rushing arsenal at this point, Carter is a master at dipping his shoulder, "getting skinny," and beating the offensive lineman to the QB. Flexibility and balance are two of the most underrated components of being a defensive end. Combined with his speed, it's not a fair contest for high school offensive tackles.

Hustle and pursuit: We'll look at a play here in just a second that illustrates this point.

Overall athleticism.
To illustrate point six, here's Lorenzo jumping over a guy.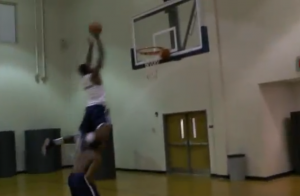 Below is a play that demonstrates Carter's quickness and speed, two of his strongest attributes.
Carter is lined up on the outside against a shotgun formation.
Subtle moves are great in basketball because they put your opponent off balance. Once they're off balance, the offensive player can put them on their hip and go to the basket. Carter does much the same thing here. He fakes the inside move with a quick jab step inside. Look closely at the tackle's feet. The offensive lineman reacts to Carter's jab and gets off balance. His knees are locked and he will be unable to react in time to an outside rush.
The play is now effectively over. Carter bends away from the lineman (only the shoulder is exposed, can't be grabbed or redirected) and explodes past him towards the QB.
Here the QB crumples.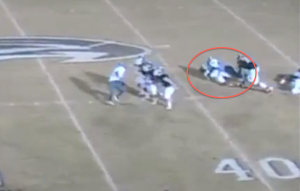 You often hear coaches talk about "one play offers." That's a one play offer. The skill set present is undeniable.
Cons: All of the raw materials are there. Carter just needs to hone his craft. The speed rush is his go to move, and with good reason. There's probably no one he's going to go against that has made him have to change. Carter will need to develop a few more moves to be an every down defensive end.
I would also like to see Carter gain some upper body strength. 20 pounds of good weight will make Carter even more valuable. Pass rushing isn't just about sacking the quarterback. It's about disrupting him enough that he makes mistakes.
With some more power in his upper body, Carter will be able to disrupt the offensive without making the sack. I'd love to see Carter add an inside rip and then be able to push the lineman back into the Quarterback. The QB is forced to step up into the defensive tackles or spin back out of the pocket.
Bottom Line: If you write out a check list of everything you want in an elite defensive end, Carter might have more checks than any other defensive end in the country. Personally, I grade him as a top five recruit in the nation. He has all the tools and ability to overtake Deshawn Hand as the consensus top recruit in the nation.
*Photo courtesy of 247sports